2023: Kekemeke Charges Journalists On Professionalism as Ondo NUJ Commends Akeredolu, Isiguzo, Adegoroye over 2022 Press Week Celebrations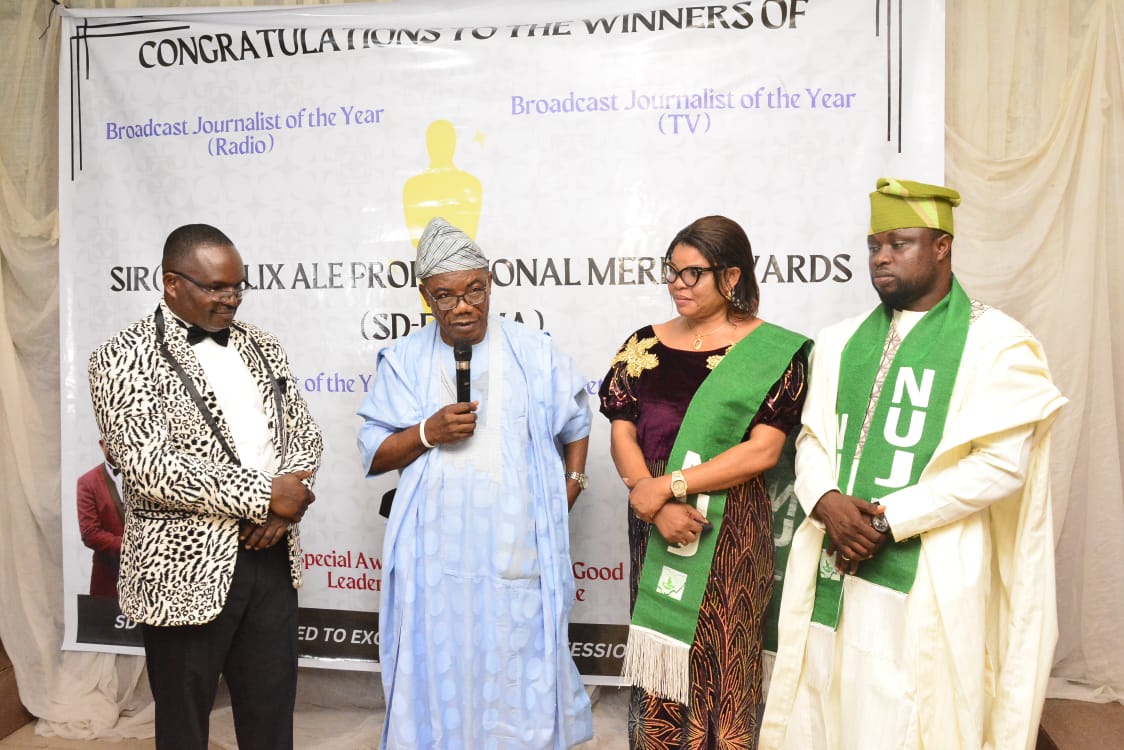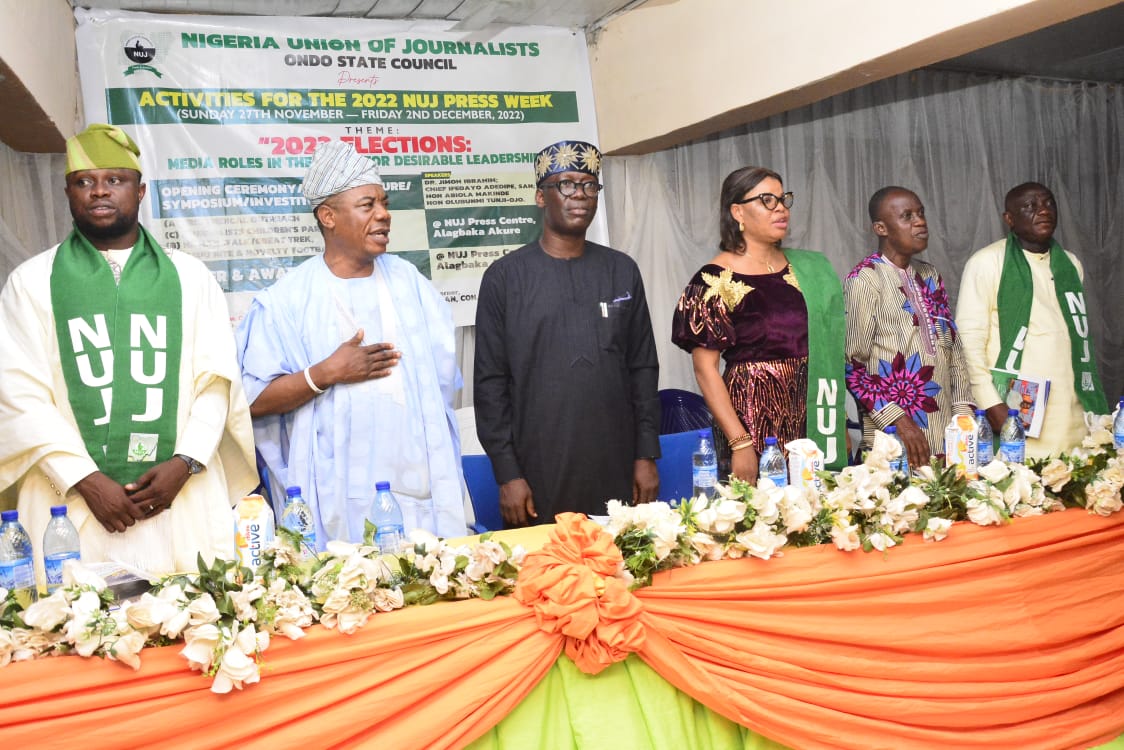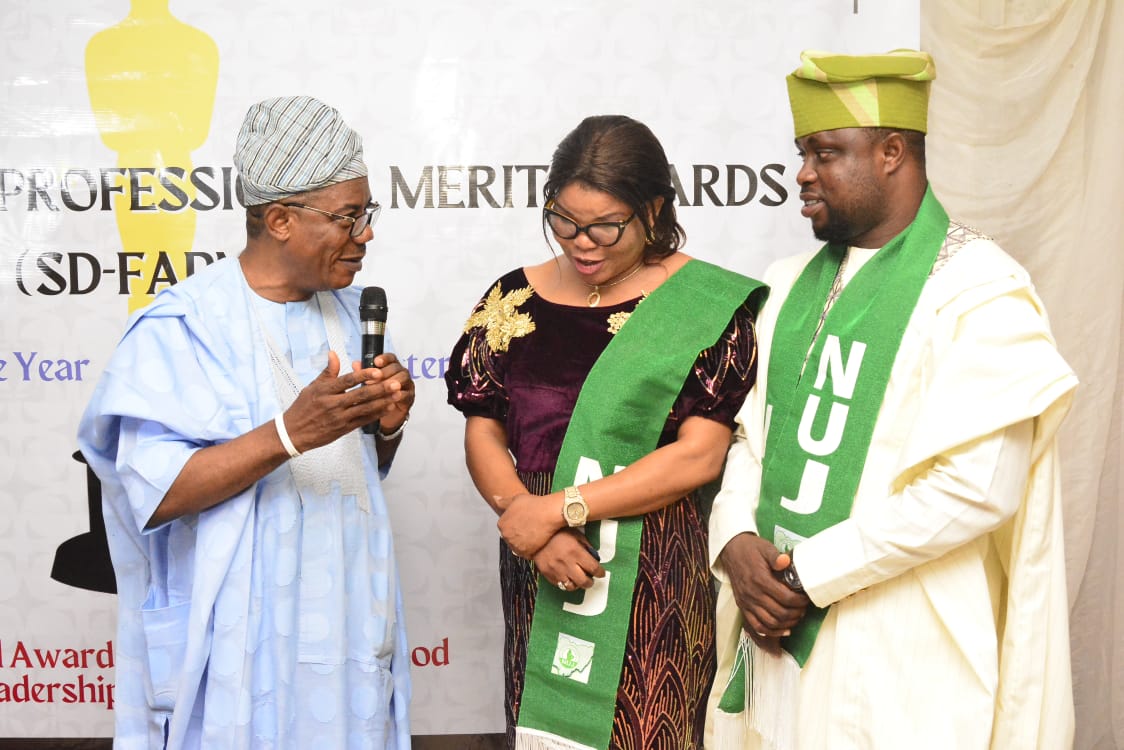 Eagle-eyed journalists who have carved niche for themselves in the noble profession got rewarded with different awards fraught with cash gifts at the 2022 edition of the Nigeria Union of Journalists (NUJ), Ondo State Council Press Week.
The week-long eye-catching event which ended yesterday was a beehive of activities such as: Health Walk, Symposium, Medical Outreach, Donation to Children's Correctional Centre, Presentation of awards, Merriment among others.
In his speech at the final lap of the annual event (Dinner & Award Nite) held at the NUJ Press Centre, Akure, the National Vice Chairman of the ruling All Progressives Congress (APC), South-West, Hon. Isaac Kekemeke, acknowledged the roles of media in the enlightenment of the public ahead of the 2023 general election, most especially on obscured topical issues.
Kekemeke who is also one of the Life Patrons of the Union, noted that the huge contributions of Journalists to the unfettered growth of the society cannot be overemphasized, owing to the incontrovertible fact that they risk their lives on daily basis in order to eschew feeding the public with spurious information.
"Media give us access to credible information, we can't fiddle away from the truth that we all rely on the media for accurate information, hence, we need to keep supporting our brilliant pressmen working tirelessly on the field.
"Many journalists have risked their lives so as to acquaint the citizenry with credible information, sadly many lost their precious lives to death in the course of carrying out their duties and they have not been celebrated.
"Journalism is not a bed of roses, hence, It is imperative we honour the enthusiastic ones who caught their teeth earlier and now making the wave in the profession, because dearth of motivation becomes the bane of quality output," Kekemeke said.
The former Secretary to State Government and Pioneer Chairman of NECO Board, therefore, showered unstinting praise on Journalists in Ondo State for their accurate and unbiased, reports, confidently saying that none of them have been caught in the web of unprofessionalism from time immemorial.
The National President of NUJ, Comrade Chris Isiguzo, MFR, lauded the Ondo State Chairman, Prince Leke Adegbite, for his developmental strides which remodeled the union within a few months of his emergence as overseer in the state.
Represented by the B-Zone Vice President, Mrs Ronke Samo, the President who gave kudos to the professional award recipients, maintained that Ondo remains a bastion of rectitude, adding immoralities to include remarkable ineptitude, licentiousness, infighting have not flooded the media about NUJ members in Ondo State.
Earlier, the NUJ Chairman, Prince Leke Adegbite, had extolled the virtues of Chief Isiguzo, describing him as a performing and reliable leader with wealth of experience to lead the media industry to a greater height.
"We laud our NUJ National President, Chief Chris Isiguzo, MFR, who has approved a Special Training Workshop for Ondo State in which about 30 practicing journalists are expected to benefit by December 2022. We wish to assure our members that every chapel will be carried along in our programmes and policies," Adegbite said.
The Chairman also applauded his members for their sterling record of achievements made so far, advising that the awards and cash prizes earned should spur them to relentlessly imbibe and burnish the kernel of hardwork.
Adegbite specifically expressed deep appreciation to Governor Oluwarotimi Akeredolu; his SA on Union matters & Special Duties, Mr Dare Aragbaiye; the Minister of State for Transportation, Prince Ademola Adegoroye; the State Commissioner for Information & Orientation, Mrs Bamidele Ademola-Olateju; the Wife of Ayede Ogbese monarch, Olori Funmilayo Nejo-Oluyede; the State Commissioner for Infrastructure, Land & Housing, Engr Raimi Aminu; a Sports administrator, Chief Lanre Moyero; Surveyor Kayode Oludare, Chief Wilson Brume as well as others for their support towards achieving a successful outing during this year's Press Week celebrations.
The NUJ Chairman equally commended the media Icons namely; Sir (Dr) Felix Ale; Mr Ayo Durodola and Mr Biyi Adegoroye for sponsoring various categories of Media Professional Merit Awards presented to outstanding journalists during the press week celebrations.
Adegbite said, "Today is not a speech making day, but to encourage our hardworking members to sustain the humongous pace. It is expected that after this bestowed honour, you need to scale up your game by keep toeing the line of proffessionalism and accuracy."
"To be honestly honest, without being sarcastic, with no modicum of intention to prevaricate, Members of Ondo NUJ have been the best. We have not been mortified nor lashed by anyone over fake news, ergo, it worthy of celebrating."
Corroborating the barrage of seamless remarks passed on Journalists in the Sunshine State, Dr. Felix Ale, who rewarded outstanding journalists in different fields of journalism, described Prince Adegbite as an effulgent Leader that has creditably performed well.
"Prince Leke Adegbite has distinguished himself out of thousands of writers. He is passionate about respectability. I was overly astounded when he became the first person to wish me well on my last birthday"
"Intrestingly, he put a write up which spanned abroad. I received a deluge of phone calls with reference to the write up by my charming Prince Adegbite."
Ale, who is the Head Media and Corporate Communications of the National Space Research and Development Agency (NASRDA), urged the beneficiaries of the awards not to stop seeking for more knowledge.
Aside, award winners in categories are as follows; Broadcast journalist of the year (Radio) was Olufisoye Adeniran of Federal Radio Corporation of Nigeria, FRCN Positive FM, Akure, and Broadcast journalist of the year (TV) was Juliet Buna of Ondo State Radiovision Corporation, OSRC. Saheed Ibrahim of The Hope Newspaper, won the Print journalist of the year, while Best veteran journalist of the year went to Chief Seinde Omokoba, and the chairman, Ondo State NUJ got a special awards of excellence for good leadership and performance.
All the professional awards were accompanied with gifts and cash prize.
Some distinguished Nigerians including the State Governor's Chief of Staff, Chief Olugbenga Ale; the State PDP Chairman, Hon Fatai Adams; a Female Medical Practitioner, Dr (Mrs) Funmilola Williams-Daudu; Mr Femi Babafemi as well as Surveyor Kayode Oludare.